Join thousands of members of the Yale community to make a difference wherever you are! The 2022 Yale Day of Service will continue the practice of bringing communities across the globe together–virtually or safely in person–to connect with their Yale alumni networks and local organizations. 
Here is how you can participate:
Reach out to Yalies in your regional network, your shared interest groups, your classmates, or colleages and let them know you want to help. 
INSTRUCTIONS FOR SUBMITTING A SERVICE PROJECT ONLINE:
 If you have a physical or virtual project in mind and would like to call for volunteers, submit your event or program through the Yale Alumni Association Events Calendar. The "Submit an Event" form you should use is available on the YAA Website. If you need to access the event calendar directly, it is located in the events section of the YAA website: alumni.yale.edu/events
Use the SAMPLE FORM below to complete your event submission, so your program can be listed with the other YDOS initiatives. Blank forms are available on the YAA WEBSITE.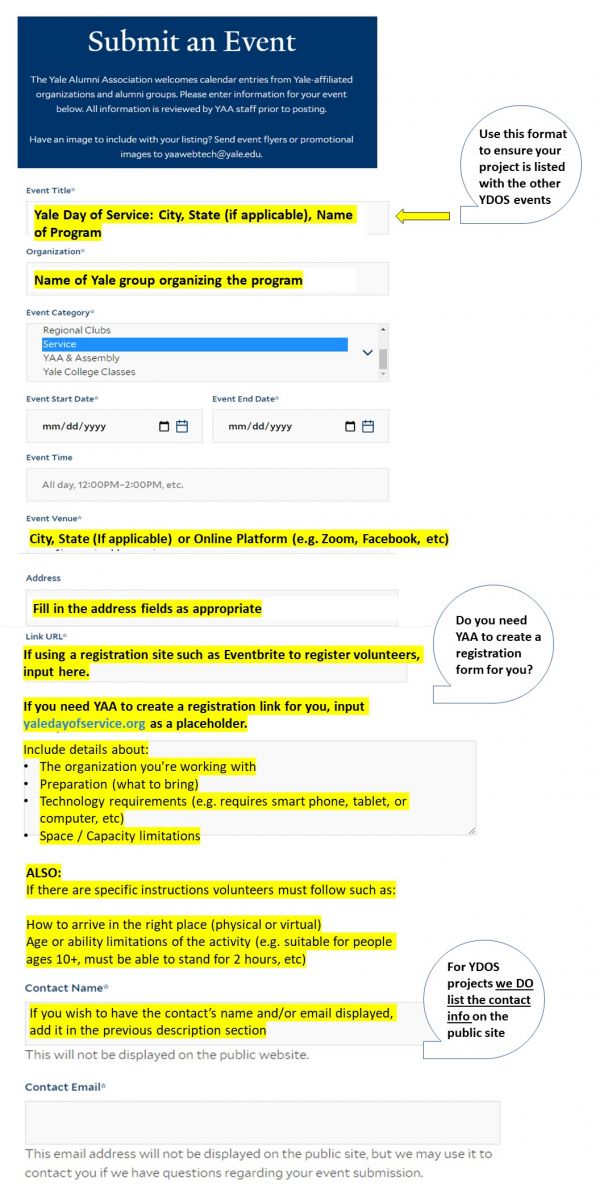 Tips for Creating a Virtual Service Project
If there is not a sponsored Yale Day of Service project in your area or if you are in a region where group gatherings are not advised, there are lots of ways to connect and spread good will with and without technology. Some ideas for virtual engagement:
Card/Letter writing to vulnerable communities

Service members and veterans
Elderly/isolated communities - Example: Love for the Elderly
Hospitalized children
Individuals with physical and emotional disabilities

Expertise sharing via video chat or webinar (e.g. Skype, Zoom, Facebook live, FaceTime) 
Story or music time for children via recorded video or live platforms
Document preparation for historical, legal, medical, financial needs.
Visual storytelling similar to the TED talk format
Become a Virtual Volunteer
Organizations all over the world are offering opportunities to provide needed services through safe and accessible platforms. Consider one of these options, or send us another opportunity to list on our virtual service sites.
American Red Cross Digital Volunteers and Sleeves Up Virtual Blood Drive
Invisible Hands, NYC* - Home grocery deliveries
Love for the Elderly* - Letter writing for seniors
Meals on Wheels America - meal delivery and support
State and National History Days - online judging for student projects
State and National Invention Conventions - online judging for student projects
Yale Alumni Nonprofit Alliance (YANA)* - multiple projects - meals, calls, letters
Local options may include: virtual 5K or bike rides, senior citizen call lines, digital story hour, online workouts, sing-a-longs, concerts, etc.
*Yale Alumni owned/operated/involved
Please review the YAA's comment on hosting in-person events during the COVID-19 pandemic.