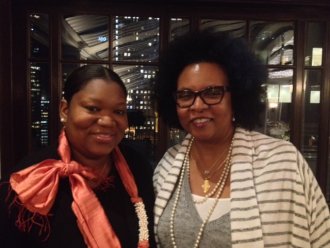 While many Yale Day of Service projects are set up to be only one day, the change lasts a lifetime. It has changed lives in the communities in which we serve, and it has changed us. Roll up your sleeves and join us! 
- Sheryl Carter Negash '82
C'Ardiss Gardner Gleser '08
Volunteer Co-Chairs for the
Yale Day of Service 2016
C'Ardiss Gardner Gleser '08 currently works in Alumni Affairs at Rainier Scholars, a Seattle based non-profit that supports and cultivates the academic potential of scholars of color from 6th grade through college graduation. She spent many years in software as an engineer and project manager, prior to returning to school and transitioning to a career in non-profit education. She is passionate about improving educational opportunities and outcomes for students of color, and is involved with organizations focused on education, access, and mentorship. C'Ardiss is heavily involved in her local community; she serves on the board of the Charlotte Martin Foundation, a private foundation focused on increasing opportunities for youth. She also serves as a Partner with collective action investment group, Social Venture Partners, where she has served on the Education and Environmental Grants Committee, and is the current Co-Chair of Social Venture Kids project. In addition to her Seattle area volunteer service, she is the current National President of the Yale Black Alumni Association as well as a member of YaleWomen's National Governing Council, and the Association of Yale Alumni's Board of Governors. C'Ardiss received her BA in African American Studies from Yale University and an M.Ed. in Education Administration from Seattle University. C'Ardiss currently lives in Seattle with her husband and three children.
Sheryl Carter Negash '82 is a member of the Yale College Class of 1982 who considers herself a "community change agent."  Professionally, as Managing Partner of Negash and Associates, Sheryl provides technical assistance to government entities, community organizations and social profit agencies engaged in social service, employment and training, and educational support activities.  Volunteerism is a way of life for Sheryl. In addition to serving with a variety of alumni groups with Yale (Day of Service, ASC, YBAA, YaleWomen, YANA, Yale Club of Los Angeles), she is a long-time volunteer with faith-based, political and community agencies in the Greater Los Angeles area.  Sheryl also manages Chestnut 219 Empowerment, Inc., a California-based, private, social profit agency.